Photo Gallery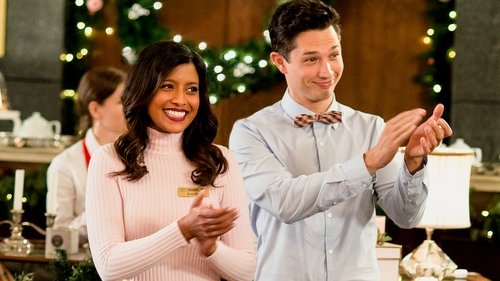 In honor of @lifetimetv starting it's #Christmas movie extravaganza. Here is a photo from our final mix of my movie #Christmas9to5 airing Nov. 24th #CantWait #btsimagines
This is me and @jill_carter_director on the set of . It airs a week from tomorrow on Nov 24 on @lifetimetv Jill is an excellent director and brought the magic. Watch this space to see more behind the scene photos with @tiyabird and #joedinicol all this week!!!
Today is @joedinicolofficial day here on the run up week to . He plays Jack, a handsome nerd with a penchant for bowties and printed newspapers. Will he find love? Will he save his beloved Desmond's? @lifetimetv #itsawonderfullifetime
New 🎄 Christmas movies and previously aired movies(on Lifetime and Hallmark) from previous Christmas before, except one. pt 1 Premiering on Lifetime (All New) : #AChristmasWinterSong #AVeryVintageChristmas #MerryLiddleChristmas #Christmas9to5 #YouLightUpMyChristmas #RediscoveringChristmas #ChristmasInLouisiana #christmasmovies Premiering at the movie theaters this weekend (Friday, 11/5) : #LastChristmas (I saw the trailer in the theaters months ago and it looked real good. I know that a lot of George Michael's music will be featured in the movie, especially music from Wham!, including song like the title: Last Christmas.) Premiering on Hallmark: #ADreamOfChristmas #FindingSanta #Merry&Bright (New) #AChristmasDetour #OnceUponAHoliday #ABrideForChristmas #ChristmasEvergreen #ItsChristmasEve #SwitchedForChristmas #AGiftToRemember #MyChristmasDream #SnowBride #ComingHomeForChristmas #WriteBeforeChristmas(New) #AVeryMerryMixUp #AChristmasDuet (New) #christmasmovies
This Christmas, she's going from the newsroom to the sales floor. Don't miss #Christmas9to5 this Sunday at 8pm/7c on @lifetimetv to see how one woman discovers more than a news story when she lands her dream job assignment!
#BlackFriday is less than a week away! Will this undercover sales associate blow her cover in the holiday shopping craziness?? Find out when you watch #Christmas9to5 this Sunday on @lifetimetv at 8pm/7c! @marvistaent
In anticipation of the premiere of #Christmas9to5 (THIS SUNDAY ON @LIFETIMETV! 🙌🏽), I thought I'd share some #behindthescenes photos taken during the shoot. I got to work with some uber-talented Canucks (and a couple of Americans, too) and had the loveliest time making a li'l Christmas magic this past summer up in the #GreatWhiteNorth. Oh, and did I mention #GeorgeWendt is in this movie?? Living. Legend. Y'all. 🤩 Hope you guys tune in this Sunday night. Be sure to lemme know what ya think! 🎄🎁🎅🏻🤶💝☃️❄
Wake up Santa! . #Christmas9to5 is coming to @lifetimetv in a week. Sunday, Nov. 24th 8pm. . With a fab cast! @tiyabird @joedinicolofficial @sheilacmccarthy and #GeorgeWendt . Directed by me 🎄
This is what it's like to watch on Sunday #itsawonderfullifetime @lifetimetv @tiyabird @joedinicolofficial @jill_carter_director and all the rest
WIN ENVIRO-LOG FIRELOGS AND FIRESTARTERS! Use in your fireplace with a nice Christmas movie on! FOLLOW US and VISIT the sweepstakes through the link in our bio for a bonus chance in our $50 gift card of your choice giveaway! LIKE and TAG A FRIEND for luck! #fireplace #romance #firepit #romantic #warmth #giveaway #giveaways #giveawayalert #sweepstakes #sweepstakesalert #christmas #movies #christmasmovies #sweeps #win #hallmark #lifetime #hallmarkchristmas #hallmarkmovie #hallmarkmovies #hallmarkchristmasmovies #lifetimechristmas #lifetimemovie #lifetimemovies #lifetimechristmasmovies #writebeforechristmas #christmasatgraceland #agifttoremember2 #twinklealltheway #christmas9to5