Photo Gallery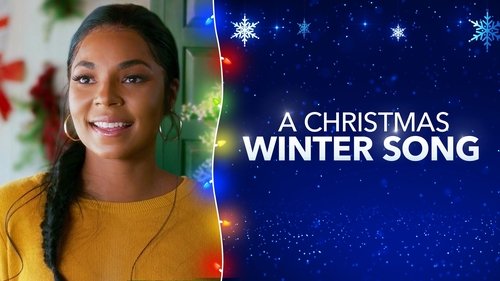 The countdown begins... only two weeks until the premiere of "A Christmas Winter Song"
Putting the Holly and Jolly in Hollywood. Taking the scenic route and walking into the Christmas season like.....🎶🎄🎁🎅🏼
🥧Happy National Pie Day🥧 So, have a slice of a Lifetime with 🎄 "A Christmas Winter Song" 🎁 premiering this December 14th at 8/7c. . #itsawonderfullifetime #nationalpieday #december14 #lifetimemovies #homefortheholidays #stanshaw
@ashanti on @edailypop today with @theladysitter and @carissaculiner 📺🎄🎼 #AChristmasWinterSong premieres December 14 at 8/7c on @lifetimetv #ItsAWonderfulLifetime
OMG! @Ashanti Announced On #EntertainmentTonight A New Music Project Coming Nov. 15! 🙌🏾🙌🏾🙌🏾 + She Discussed Her New Christmas Movie "A Christmas Winter Song" Airing Dec. 14 On Lifetime! 👏🏾 #TeamAshanti, Are You Ready? 👀 #AshantiSeason - - #Ashanti #ET #AChristmasWinterSong #Lifetime #Music #Movie
So honored to be featured in the Jamaica Gleaner this morning. Thank you so much for this and for highlighting my story and our @lifetimetv film "A Christmas Winter Song" along with my costars Stan Shaw, Ashanti and writer and director, Melissa Bustamante and Camille Brown. You guys all made this possible and are very much appreciated. ❤️❤️❤️🎥🎄 6 more days!!! ⁣ ⁣ ⁣ Article is in @jamaicagleaner written by Yasmine Peru ⁣ http://jamaica-gleaner.com/article/entertainment/20191208/jamaican-actress-excited-about-role-lifetime-movie-christmas-winter
On the set of in Brighton, MI. Catch it Dec. 14 8/7c @lifetimetv #femalefilmmakerfriday #femalefilmmakers #setlife #itsawonderfullifetime #lifetimemovies #christmasmovies
Taking some time to enjoy the moments of the Christmas Season. I hope you are too. Have a blessed one. 🔥❤️🎄
First Look! Check out trailer for @Ashanti's new Christmas movie #AChristmasWinterSong, which airs on @Lifetime December 14th! Link to the trailer in the bio! ❄️🎅🎄
Can #Ashanti turn @billybush into a pescatarian? Not gonna happen. 🤣 What *will* happen is our interview about her @lifetimetv movie #AChristmasWinterSong, Thursday on #ExtraTV! 🎄
Happy Thanksgiving! 🦃🍁🏈🥧From our home to yours🏠👉🏽🏘 . #itsawonderfulllifetime #homefortheholidays #lifetimetv #holidayfilms #lifetimemovies #stanshaw #ashantichristmas
Kindness, always. ❤️✨ #AChristmasWinterSong premieres Saturday at 8/7c. @ashanti #ItsAWonderfulLifetime . . . . . #LifetimeChristmasMovies #ChristmasMovies #Christmas #Holidays #ashanti
Cozy up this weekend and catch our Tamsen Glaser in A Christmas Winter Song on @lifetimetv starring Ashanti & Stan Shaw 🎄☃️🎼 ... @achristmaswintersong 🎄Fall-la-la in love with "A Christmas Winter Song" 🎁 premiering this December 14th at 8/7c. . #itsawonderfullifetime #christmasfireplace #december14 #lifetimemovies #homefortheholidays #tamsenglaser #ddoartists #ddochicago #thatssoddo #letsddoit
Guess who has even more Christmas movies premiering this holiday season?? 🎄🎅⛄️ Get a sneak peek of our new movies airing this Christmas here! http://bit.ly/340K5Hk #AChristmasWinterSong #MistletoeAndMenorahs #ItsAWonderfulLifetime @lifetimetv @marvistaent
@ashanti's new Christmas film 'A Christmas Winter Song' starring Stan Shaw + more premieres THIS SATURDAY on Lifetime! Be sure to check your local listings as times may vary! #AChristmasWinterSong #Ashanti #StanShaw #Lifetime #Film
#Repost @lifetimetv ・・・ Kindness, always. ❤️✨ #AChristmasWinterSong premieres Saturday at 8/7c. @ashanti #ItsAWonderfulLifetime . . . . . #LifetimeChristmasMovies #ChristmasMovies #Christmas #Holidays #ashanti
Almost done setting up for Christmas. Just a few more final touches and we're ready. My favorite Christmas tradition is decorating the tree with the family and building Ginger Bread houses with my sisters. I also can't resist picking out and eating the soaked raisins while mom bakes her special Jamaican Christmas cake. 😂 Add in the sorrel and we are good. What's your favorite Christmas tradition?
Get ready! THIS Saturday December 14th "A Christmas Winter Song" sure on @lifetimetv and we are LIVE tweetchatting with Director @thecamillebrown !!! So excited!! Please join us at 8PM Eastern and 8PM Pacific and make sure your Christmas Cookies are ready to munch and chat all things Xmas movies! Use hashtag #AChristmasWinterSong on TweetChat to follow along! Starring Stan Shaw and Ashanti! @ashanti #lifetimechristmasmovies FOLLOW @thecamillebrown ❤️🌲❤️
#Recap @Ashanti Visiting Extra TV Yesterday To Promote Her New Christmas Movie, "A Christmas Winter Song". 😍 Interview Coming Later This Week To Extra! "A Christmas Winter Song" Airs Saturday, Dec. 14 On Lifetime. #EP - - #Ashanti #ExtraTV #AChristmasWinterSong #Lifetime #Music #Movie
I hope you tune in to watch the premiere of #AChristmasWinterSong starring the amazing @ashanti , #stanshaw & #sashani, Directed by the lovely and talented @thecamillebrown Airing Saturday, Dec 14th 8/7c on @lifetimetv Allie @Santokids is playing Hannah in the opening scene Thank you all for tuning in! #savethedate
#spotlight actor @coleentutton plays Eileen, the fun loving mother of Clio (Ashanti). The tenderness and subtly of her performance is wonderful in #AChristmasWinterSong airing on Dec. 14th 8/7c on @lifetimetv. Coleen was an absolute joy to be around with her positive energy.
Watching @lifetimetv & look who I see my sis @ashanti 🎄12/14
#spotlight actors @nevaeh_ashanti and @runakomarshall play Young Clio and Robert, her father. They have a true bond in #AChristmasWinterSong. Please watch their wonderful performances Saturday, December 14th 8/7c on @lifetimetv. How fitting that Nevaeh's middle name is Ashanti.
Christmas Cozy! All I need is some hot chocolate and some Lifetime Christmas movies. Who else is ready? ❤️🎄😍
#Ashanti is in studio! 🙌 Click the link in our bio to hear her dish about her new single, her new #Lifetime movie #AChristmasWinterSong and more. 🍿
Listen to our latest episode with @ashanti while you're wrapping presents, baking cookies or trimming the tree... and don't forget to watch her new @lifetimetv movie #AChristmasWinterSong when it premieres this Saturday @ 8pm ET/PT!
When you get a candy cane from your favorite singer @Ashanti in #AChristmasWinterSong airing December 14th at 8/7c on @Lifetimetv
@ashanti on @edailypop talking about #AChristmasWinterSong. 🙌🏽