Photo Gallery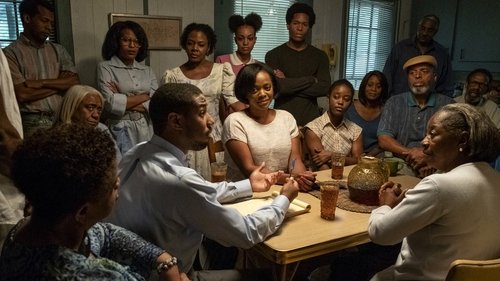 Last night I got to see an early screening of the movie Just Mercy. It stars Michael B. Jordan, Jamie Foxx, and Brie Larson. It is based on the book by Bryan Stevenson, who started the Equal Justice Initiative in Montgomery, Alabama. It was a phenomenal movie! And after it was over, Bryan Stevenson and Michael B. Jordan came out and spoke. It was so cool! I wanted to meet them so bad, but I didn't get to. But this nice lady gave me this huge poster which I love. She said I might not have gotten to meet Michael B. Jordan, but I could take him home with me 😂. The movie comes out on January 10 and all of you should go see it! It is a really important movie. #vinylkid #moviekid #vinyligclub #justmercyfilm #michaelbjordan #jamiefoxx #brielarson #bryanstevenson @justmercyfilm
Just Mercy out this Christmas limited release and nation wide January 10. Life fulfilling film ... @michaelbjordan brilliant in front of and behind the camera. @justmercyfilm
#JustMercy, based on a true story, arrives in select theaters December 25, everywhere January 10. Visit justmercy.eji.org to learn more about the book and film.
#MBJ at a special screening of #JustMercy in Montgomery, Alabama 💥💥💥
Brie Larson wearing Alexander McQueen RS20 RTW at "Just Mercy" Screening in New York. Stylist: Samantha McMillen.
T-minus 4 more days ladies and gents for the limited theater release of "Just Mercy"! Also check out "Richard Jewell" if you haven't already...it's a powerful film that makes you think for a moment ;) #justmercyfilm #richardjewell #clinteastwood #setlife #actorlife
Yesterday I had the absolute HONOR AND PRIVILEGE to be amongst the first to screen the film #JustMercy in the presence of Michael B Jordan himself. This film sheds light on the Alabama Department of Corrections and the founder of the #EJI Bryan Stevenson. Working for the ADOC, this movie gives me a whole new appreciation for my job as a Nurse and my clients. Please support this film in January!! #OscarWorthy
Check out these pictures from last night where we hosted a Special Screening of #JustMercy with artists, organizers, and thought leaders including: Actress & Activist, Dawn-Lyen Gardner; Actor, Michael Ealy; Activist, Richie Reseda; Executive Producer, Niija Kuykendall; and moderated by Rolling Stone Senior Writer, Jamil Smith.
Discover Bryan Stevenson's remarkable story in #JustMercy. See it in select theaters Dec 25th, everywhere Jan 10th. #JustMercyFilm #JamieFoxx #MichaelBJordan #BryanStevenson #D3EG
Christmas Day limited release. JUST MERCY. January 10th wide release. @justmercyfilm #justmercy
@michaelbjordan and @iamjamiefoxx with Mike Muse discussing Just Mercy • S/n-I CAN'T WAIT FOR THIS MOVIE😫 • • #michaelbjordan #teammbj #mbj #mce #michaelbaejordan #explore #explorepage @michaelbjordan #mcm #jamiefoxx #siriusxm
Vote below for the best supporting actor. The nominees are Tom Hanks (A Beautiful Day in the Neighbourhood), Brad Pitt (Once Upon a Time in Hollywood), Matt Damon (Ford v Ferrari), Joe Pesci (The Irishman), Al Pacino (The Irishman), William Dafoe (The Lighthouse), Jamie Foxx (Just Mercy) and Anthony Hopkins (The Two Popes). #TomHanks #BradPitt #MattDamon #JoePesci #AlPacino #WilliamDafoe #JamieFoxx #AnthonyHopkins #ABeautifulDayintheNeighborhood #OnceUponaTimeinHollywood #FordvFerrari #TheIrishman #TheLighthouse #JustMercy #TheTwoPopes #BestSupportingActor #PopCultureAwards
Here we go! #WhatIsYourSomething #JustMercy @JustMercyFilm #StayTuned #ComingSoon
TWO DAYS....TILL IT HIT THE BIG SCREEN IN LOS ANGELES AND IN NEW YORK CHRISTMAS DAY..... DEC 25TH📽🎥📸 I HAD THE AMAZING OPPORTUNITY TO DO HAIR ON THIS FILM.... THANK YOU @hairbylawrencedavis for asking me to be your Right hand Woman on this impactful film. Those in #newyork and in #losangeles ...GO SEE THIS FILM...ITS ONE THATS BASE ON A TRUR STORY...SAD TO SAY THE STORY IS STILL HAPPENING IN OUR JUSTICE SYSTEM BUT TO SEE ONE MAN FIGHT FOR ONE MANS FREEDOM...GIVES HOPE.... CHECK IT OUT @iamjamiefoxx @karankendrickofficial @michaelbjordan @shadowflack @destindaniel @osheajacksonjr @brie_lawson #dec25 #film #movie #hairstylist #filmhairdesigner #hairdesigner #hairdepartment #monab🐝
It was great having @michaelbjordan stop by HQ to talk to the guys about his impactful new film, #JustMercy Credit @ @lakers Follow @lakers.fans.usa
Last night we hosted a family and friends advanced screening of the upcoming film #JustMercy and it was incredible. This movie is a must see; it challenges us to not just talk but to act. @michaelbjordan as #BryanStevenson is inspiring, and @iamjamiefoxx embodies #JD. In theaters everywhere January 17th
Here we go! #WhatIsYourSomething #JustMercy @JustMercyFilm #StayTuned #ComingSoon
Mike stopped by @lakers to discuss his new movie 💜💛 #MichaelBJordan #TeamMBJ #LebronJames #Lakers #JustMercy
For the powerful film "Just Mercy," director Destin Daniel Cretton's team kept the acting and camerawork front and center while boosting the story's emotions through design. For more on #JustMercy, visit the link in bio.
Believe 🙌🏻💙 #Repost @scottbudnick1 with @get_repost ・・・ Today 11 incarcerated young men and woman were surprised and taken out of the Ventura Youth Correctional Institution- for 8 hours - to go down to the Lakers practice facility to ball with the team. All as part of our Represent Justice campaign to make impact and support the Jan 10th release of "Just Mercy". First surprise - @michaelbjordan showed up and dedicated two hours of his time simply to give love, inspire and dig deep with the young men and woman. Then, the Lakers blessed them with new Lebron shoes, jerseys and swag. Lakers Legends Robert Horry and Meta World Peace came out to coach a 5 on 5 Play for Justice game and have a roundtable discussion. And just when it couldn't get any better - current Lakers Players came out for a session with the youth. Tonight they are back in a jail cell - temporarily- but with hope, inspiration and a continued path of transformation. All are coming home soon. All 11 were picked because they are computer coders, college students and mentors - all while behind bars. Thanks to @lakers, @kingjames, @troydaniels30, @kuz, @dwighthoward for all the love and support. The smiles and laughter today was healing for all. #JustMercy #RepresentJustice @cacorrections
Back in 2015, I read the book, "Just Mercy". Once I'd opened the book, I couldn't put it down. I ended up reading it cover to cover on a Sunday. I only stopped long enough to cry and keep plowing through. The book is nothing short of amazing and should be required reading for anyone coming of age in the Mass Incarceration Era. When I finished the book, I told everyone who would listen about it. I went to work the next day and gave it to a friend. Bryan Stevenson is simply the most remarkable lawyer of our time. The stories of his work and his clients shook me to my core. His immense courage and strength in the face of overwhelming adversity is nothing short of inspiring. I felt like an asshole for ever complaining about my work load or about the work. The obstacles he battles are so much more formidable. His resources are far less sufficient. Since then, I watched his Ted talk and even attended the opening of his Legacy Museum in Alabama. I once heard him speak in LA and John Legend sang , "Glory" immediately afterward. The tears fell again just as they did when I heard Bryan speak in Alabama. The man is the soul of indigent defense. He understands the struggle to breathe life into a case number and remind the world that there are people behind the charges. I am beyond excited to see the film, Just Mercy which will be released on Christmas. In fact, I've already purchased tickets for two separate screenings. Please take your friends and family to see the film. On a holiday when millions of Americans are caged away from their loved ones, it's important to remember that not all are guilty and not all are innocent but each and everyone of them are human. #publicdefender #publicdefenderchronicles #criminaljusticereform #freedom #endmassincarceration #massincarceration #schoolsnotprisons #carenotcages #schooltoprisonpipeline #lawyermom #lawmama #blacklawyers #blacklawyermom @justmercyfilm @verainstitute @michaelbjordan @iamjamiefoxx @eji_org
Break down of his career
Repost @lakers | It was great having @michaelbjordan stop by HQ to talk to the guys about his impactful new film, #JustMercy
I love to see my people doing epic sh*t, shout out to @kuntrelljackson this a strong black king who's story will touch your heart in more ways than one so please do your research. Congratulations on your new film #JustMercy with #MichaelBJordan. 🙌👑💪💪🎥🎞🎬📺 #JustMercy In theaters Jan 2019 make sure yall go support! Every woman should treat her man to this movie. #RS . . . . . . Reposted from @kuntrelljackson (@get_regrann) - Me and Michael B Jordan kicking at the screening of our movie Just Mercy! It theater's nationwide January 10th! Go check it out! - #regrann
📸 Brie photographed for InStyle Magazine (2019). — #brielarson #photoshoot #captainmarvel #caroldanvers #unicornstore
— the most gorgeous 🌼💘
Tomorrow's the day!!! @justmercyfilm limited release in LA & NY! Get your tickets and go see this film. Most important film I've ever been apart of. Out everywhere January 10. #JustMercy
🎥only showing in #LA & #NYC tommorow......I can't wait to check out this anticipated film🎥 #JustMercy #MichealBJordan #JamieFoxx
Before I go to bed, I have to say thank you. When I landed in GA, I was greeted with the news that the advanced screening of #JustMercy for my hometown is #SoldOut 🙌🏾🙌🏾🙌🏾 Scientific proof that #MyHometownIsBetterThanYours. Because of the demand for tickets, we had to increase capacity 3 times over the past 24 hours! Tickets went on sale yesterday afternoon👊🏾 Thank you for your consistent support. I hope to continue to make you proud❤️ #FoteValley #JustMercy #WhatIsYourSomething #MinnieMcMillian #SeeYouFriday! #MerryChristmas ❤️
Beautiful Minds, after you have enjoyed celebrating Christmas or Hanukkah please take the fam & friends to see this dynamic film. I had the privilege to see it early @wbpictures studios and it was phenomenal. As a lawyer I found it riveting! Please support greatness! Jamie, @michaelbjordan @brielarson #BryanStevenson @iamcharlesdking @staymacro et. al!! #Repost @iamjamiefoxx ・・・ Tomorrow's the day!!! @justmercyfilm limited release in LA & NY! Get your tickets and go see this film. Most important film I've ever been apart of. Out everywhere January 10. #JustMercy
After 45 years in prison, Clarence Henderson received his second chance. "I'm so blessed to be home for the holidays." . #secondchances #reentry #criminaljusticereform #endmassincarceration #werepjustice #justmercy
New Photos For #JustMercy with Michael B. Jordan, Jamie Foxx, Brie Larson & Rob Morgan. The film will have an Oscar-qualifying December 25 limited release before going wide January 10, 2020. A black man wrongly accused of murder spends six years on death row before a lawyer with the Equal Justice Initiative gets him exonerated Foxx received a #screenactorsguild (SAG) nom for Outstanding Performance by a male actor in a Supporting Role.
"We're putting band-aids right now on open wounds." [email protected] on the social justice issues his new film faces. #JustMercy is in select theaters tomorrow! #MichaelBJordan #celebrity #otrc
Not all heroes wear capes 👑 #JustMercy #ChristmasDay #NYLA #Repost @scottbudnick1 ・・・ There are some people that show up when their aren't cameras. When there is nothing to gain. When it is purely selfless. Just because they understand the reciprocal nature of showing love and giving back. Because they understand the power of their platform and their impact on humanity. @michaelbjordan is that guy. Mike has heart. He has joined me on trips into the toughest places - that no one knows about, because he isn't looking for accolades. This is what separates a global movie star from an actor. This guy is hungry every day - not for fame and bullshit - but because he knows the impact he can make on the world. I love this guy. He is 100% real and authentic. And this is why I hope everyone comes out to see Just Mercy on January 10th and watch Mike play another enormous hero, Bryan Stevenson - we need to celebrate the real ones as they don't come around often.
I think we can all agree that the fact that he's considering wearing durags more and talking about wave checks is extremely dangerous for us.... imagine the selfies y'all....😭😭
@melvin So important for those of us with a platform to use it for positive change. @justmercyfilm reinforces the power we all have. #JustMercy In select theaters tomorrow, everywhere January 10.
Based on a true story, JUST MERCY will have a special preview screening on January 18. Book you tickets now. Link in bio. . . . #justmercymovie #MichaelBJordan #JamieFoxx #BrieLarson #OSheaJacksonJr #DendyPreviewScreening #comingsoon #DendyEvents #dendyau #dendycinemas
Tomorrow's the day!!! @justmercyfilm limited release in LA & NY! get your tickets and go see this film. Most important film I've ever been apart of. Out everywhere January 10. #justmercy
"I sometimes look out this window and I think about the people who were doing what I'm trying to do 60 years ago. And what they had to frequently say is, 'My head is bloodied but not bowed.' I've never had to say that. I'm standing on the shoulders of people who did so much more with so much less. And when you remember that, and you recognize that, you realize you have to get back up and you have to keep fighting. "This street that we're on is a street where 170 years ago enslaved people were trafficked; they were put in chains and they were humiliated and denigrated, and taunted and then they were put on an auction block and then sold. I sometimes feel like I still hear the sounds of that torment, and the souls and the spirits of the enslaved and of the lynched, and those who were humiliated by segregation and pushed and condemned in jails and prisons." "You know, I hear what that anguish sounds like," he added. "But I also hear the sounds of the community of people like that saying, "Keep fighting." #justmercy
This is a heart warming & heart breaking film; take your family #justmercymovie #jamiefoxx #michaelbjordan #themagnificentsteins #phoodphotos&politics #onedopeblackjack #onedopechick
merry christmas !! 🎅🏻☃️🎄⛸🦌 here's a quick lil christmas edit i made uwu !! i hope everyone has/had an amazing christmas !! i jus woke up heh so mine hasn't started <3 i'm soo grateful for all of my followers but especially my friends !! u all get me thru so much !! everyone is tagging people in their christmas edits but i luv all my friends dearly so i didn't wanna tag twenty for fear of leaving people out soo i decided to tag jus two people that rly truly helped me get thru this year ♡ ilu !! n BRIE !! brie can also be tagged bc she is very special to me 🥺 and as for everyone else, merry christmas !! n happy holidays too ofc :) ac heavnlyaudios | cc skylord._ | oc gymteredits
This interview/article is in @officialmichaelbjordanfanpage's bio. • #michaelbjordan #mbj #jamiefoxx #latimes #interview #photography #photoshoot
Town Hall Interview With @iammikemuse, @michaelbjordan & @IamJamieFoxx.  Exclusive town hall for @justmercyfilm... incredible conversation @siriusxm @sxmurbanview! Tune in and go see the film December 25th! @bigvegg @v.lens @tvbeats @mingphotographys #MichaelBJordon #JamieFoxx #JustMercy #Movies #Film #hollywood #policy #law #justice #Mercy #acting #mbk #IntersectionOfMuse #xm #sirusxm #mingphotography 🎥  @photosbygates
"We are all broken by something. We have all hurt someone and have been hurt. We all share the condition of brokenness even if our brokenness is not equivalent... But our shared brokenness connect[s] us... Our brokenness is the source of our common humanity, the basis for our shared search for comfort, meaning, and healing. Our shared vulnerability and imperfection nurtures and sustains our capacity for compassion." I'm stunned by this book, and angry at myself for not having read it sooner. Bryan Stevenson is a marvel. Highly highly recommend. #bookstagram #bookstagrammer #book #books #reading #readingnow #currentlyreading #bookreview #read #booklover #booknerd #bookworm #booksofinstagram #bookish #booklove #bibliophile #bryanstevenson