Photo Gallery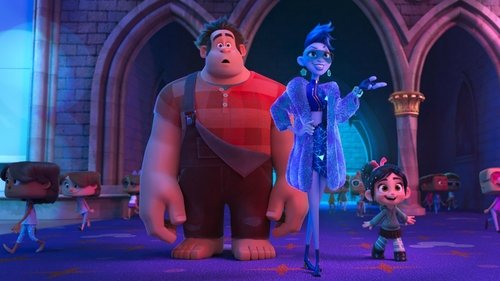 #RalphBreakstheinternet #Ralph
Brickheadz - 052 - Vanellope [Wreck It Ralph 2: Ralph Breaks the Internet] • My part for a Mini collab with @stormythos check out his page for Ralph! And the last pic on this post to see them together! • Vanellope is one of the main characters in Disney wreck it Ralph. And with its sequel coming out in just under a week, stormy and I decided to celebrate the release by doing a mini collab! Vanellope was very fun to make. I think the most challenging part was her skirt, surprisingly. I loved making the hair, and I'm overall super happy with this one! What do you think? • #lego #brickheadz #moc #disney #disneymoc #legomoc #legobrickheadz #funko #funkopop #vanellope #wreckitralph #wreckitralph2 #legodisney #martibrix #martibrixheadz #legoquickreview
Omg I can't wait!!! Gunna cry tears of joy so hard. #disney #wreckitralph #toys #vanellopevonsweets #imgunnawreckit
PRINCESS ELSA & PRINCESS ANNA *************************************** @disney @disneyland @waltdisneyworld @disneystudios @disneyanimation #ralphbreakstheinternet #wreckitralph2 #disneyprincess #princess #disneyland #disney #disneyfan #disneylife #elsa #anna #princesselsa #princessanna #graphic #illustrations #illustrator #graphicart #illustrationart #illustrationartists #graphicart #graphicdesign #design #designer #art #artist #cartoon #character #china
Only 5 days now!!! #Repost @magicalvacationplanner ・・・ We are only 6 days away from #RalphBreakstheInternet #wreckitralph #vanellopevonschweetz #disneyprincess #disneymovies
SwipeLeft!!! ⬅️ DoubleClick!!! ? Follow Me!!!✅ *************************************** @disney @disneyland @waltdisneyworld @disneystudios @disneyanimation #ralphbreakstheinternet #wreckitralph2 #disneyprincess #princess #disneyland #disney #disneyfan #disneylife #ariel #graphic #illustrations #illustrator #graphicart #illustrationart #illustrationartists #graphicart #graphicdesign #design #designer #art #artist #cartoon #character #china
— "So, now that you guys are talking— I'm free to go? ?" that line should belongs to Vanellope haha??? ok I don't know what I did with this post, don't know the meaning of it, but I just thought I needed to make something for the legendary died who just left us at the age of 95. I'm not a huge fan of Marvel, I know so little about Stan Lee, but judging on how many people make posts about him, how many people put tons of flower bouquets on his Hollywood Walk of Fame, how many people get it pretty hard at his pass, I know the love from the world for this man is real. I've always seen Stan Lee as an incredible with super ordinary mind, he makes his comics and stories much more relatable to us and there are always these few characters that I can relate to. Stan Lee is a pure genius. Now that he has been working for decades, let's give him a rest, a real one this time. Love you, big guy! Excelsior! ❤️ ••• Today's topic: Bye-bye ? I kinda need to remind you that death can knock on your door anywhere and anytime and what's the point of life with you knowing that you have nothing that you can give to the world? Your age, gender, nationality, your identity, your background is not a border for you to overcome great things. You guys are made from tons of potentials, you just gotta take one, use one, and train one to change the world. I believe that every single one of you is going to be something someday and you'll look back and be proud of how your old-self starts it all. "Every day, there's a new development. There's no limit to the things that are happening." ••• This post is dedicated to: @therealstanlee ?? Sir, you are amazing. Thank you for your so many lessons!!!?❤️????????❤️???????????????????
"The cold never bothered me anyway." #Frozen #Elsa #disneyprincess
#ralphbreakstheinternet
???????????I love this series of pins so much!! I really hope Disney continues it because they're so cute and creative. Also, count down to Ralph Breaks the Internet! I'm so excited!! ? ? ? ? #disneypins #disneypintrading #pinstagram #pingamestrong #enamelpin #wreckitralph #vanellopevonschweetz #vanellope #wreckitralphpins #disneyworld #disneyland #disneypincollector #disneypincollection #disneylunchbox #bravepins #lunchboxpins
PRINCESSES ???
Right before tomorrow opening night gotta take a selfie. Going to see tommorow night at @amctheatres at 6:00 pm with fam @slimthick324 @soldierbaby86 Grandma and my three younger brothers.
Karol ensayando para los últimos shows en el Luna Park ?? Pd: I'm cry ?
"Be Inspired With The Music Note Kids"!!!❤️?????? ? Read Each Kids Bio And Watch Their Own Personal Video At https://care4yourown.com And Learn All About The Care 4 Your Own Tree!!!?? Link In Bio ??????????Bless Everyone #ourworld #girlpower #familylife #community #autismspeaks #culture #music #sports #hiphop #country #rap #rocnation @rocnation #kodaklens #upnyc @fatjoe #oprahmagazine @unitedmasters @oprahmagazine #mikejudgepresents #thisis50 @50cent #breakfastclub #tmt #themoneyteam #culturedmagazine @cultured_mag #revolttv #cbsdiversity @cbsdiversity #funlearning #pbs @pbskids @pbs @betterconnecticut @videomusicbox #vote #vox @michelleobama #ctkidgovernor #itstimeforkind @lennygreen @queenslibrary #ralphbreakstheinternet
credits @mmdisney200 #shopdisney #ariel #belle #snowwhite #elsa #anna #pocahontas #tiana #moana #mulan #aurora #cinderella #jasmine #rapunzel #disneyanimation #disneyprincess #disneyblogger #disneygram #frozen #instadisney #merida #disneyprincesses #boo #set #elena #princesas #dollstagram #ralph .
Who's excited for #wreckitralph2 ?! #vanellopevonschweetz #sarahsilverman @sarahkatesilverman #disney #silhouettesbyjordan
? 2 days till ? Can you tell we are excited!? #areyouahobo #babypie #dcl #disneydream #wreakitralph #vanellopevonschweetz
Comfy Elsa ?❄ . . . #elsa #elsafrozen #frozen #disneyfrozen #disney #elsacosplay #frozencosplay #comfy #comfyprincess #wreckitralphprincesses #wreckitralph #wreckitralph2 #princess #disneyprincess #queen #queenelsa #disneyqueen #cosplay #cosplayer #italiancosplayer #italiangirl #cosplaygirl #cosplaylove #picoftheday
Ralph breaks the internet SOON in theatres, I'm intrigued! ✨ . Elsa by @linalia7 ❤️ Wig from @evahairofficial ? Anna by me ? . #frozen #frozencosplay #geekstoy #cosplayers #cosplaygirl #cosplayersofinstagram #frozenanna #frozenelsa #frozendisney #anna #elsa #annacosplay #elsacosplay #princess #princesscosplay #disney #disneycosplay #elsaqueen #annaelsa #disnerd #letitgo #cosplay #makeup #ralph #ralphcosplay #ralphprincess
Ariel's reaction faces are goals ?? Screencaps from new video couresty of @georgebeard7089 #Ariel #PrincessAriel #WreckItRalph2 #WreckItRalph #RalphBreakstheInternet #DisneyPrincess #DisneyPrincesses #DisneyAnimation #WaltDisneyAnimationStudios #WDW #WaltDisneyWorld #Disneyland #MagicKingdom #DisneyIsLove #DisneyIsLife #InstaDisney #Disneygram #Disney #LikesWithTags #DisneyWorld #Disneyside #disneylove #disneyaddict #disneymagic #disneylife #disneyfan #disnerd #disneyig #disneyphoto @disney @disneyanimation @thedisneyprincesses @wreckitralph @disneymovies @disneystudios
In 3 days, see "one of the best animated films of the year." #RalphBreaksTheInternet is in theatres this Wednesday!
Ralph Breaks the Internet is in theaters TOMORROW the 21st!! ??? Who's going to see it? ?? #ww84 #galgadot #galgadotfan #wonderwoman #dianaprince #justiceleague #fastandfurious #giseleyashar #womenempowerment #likeagal #girlcrush #girlpower #wondergal #dcomics #dccinematicuniverse #dcextendeduniverse #batmanvsuperman #reebok #chrispine #stevetrevor #wondertrev #gadotarmy #zachsnyder #revlon #ralphbreakstheinternet
Ming-Na Wen was born November 20, 1963. http://www.nerdnewsnow.com https://therealnerdherd.wordpress.com/ https://www.facebook.com/therealnerdherd/ Instagram: https://www.instagram.com/the_real_nerd_herdnerdnewsnow/ Twitter: https://twitter.com/JimKirkwoodJr #mingnawen #agentsofshield #mulan #marvel #batman #eureka #stargate #universe #sofiathefirst #er #inconceivable #thejoyluckclub #streetfighter #finalfantasy #thespiritswithin #misterrogers #astheworldturns #november20 #birthday #nerdnewsnow #therealnerdherd #nerdherd #nerd https://therealnerdherd.wordpress.com/2018/11/20/ming-na-wen-was-born-november-20-1963/
Vanellope Von Sweetz from Wreck it Ralph Breaks the Internet #disneyemojiblitz #disney #wreckitralph2 #vanellopevonschweetz #disneyemoji
Princess Moana!!! *************************************** @disney @disneyland @waltdisney @disneystudios @disneyanimation #wreckitralph2 #disneyprincess #princess #disneyland #disney#princessmoana #disneyfan #disneylife #moana #graphic #illustrations #illustrator #graphicart #illustrationart #illustrationartists #graphicart #graphicdesign #design #designer #art #artist #cartoon #character #china
When an early season queen enters the All Stars 4 Werk Room... ?? - - - - - - #wreckitralph2 #wreckitralph #disneyprincess #disneyprincesses #princess #disney #gaydisney #disneymeme #disneygays #disneygay #disnerd #disnerds #rupaul #allstars4 #allstars #dragrace #rupaulsdragrace #gay #gays #instagays #instagays #gaypodcast #disneypodcast #onceuponascream
Already got my tickets ? for tomorrow ??#tarajiphenson #ralphbreakstheinternet
#RalphBreaksTheInternet #WreckitRalph2 is now showing at District Theatres. Reserve your tickets now at http://DistrictTheatres.com.
We were sure that @officialrickastley would love our very own #WreckRoll. We were wrong...at first. #RalphBreaksTheInternet⁠
That time I met #wreckitralph #fixitfelix #wreckitralph2 #disney #pixar #disneyland
Ralph Breaks the Internet: Trailers and Videos
Ralph Breaks the Internet: Wreck-It Ralph 2 - Review
WRECK IT RALPH 2 All Movie Clips + Trailer (NEW 2018)
WRECK IT RALPH 2 Grumpy Dwarf Easter Egg Scene Trailer (NEW 2018) Ralph Breaks The Internet Movie HD
RALPH BREAKS THE INTERNET (2018) | Behind the Scenes of Disney Animation Movie
WRECK IT RALPH 2: All NEW Clips + Trailers (2018)
Ralph Breaks the Internet Exclusive Featurette - Into the Internet (2018) | Movieclips Coming Soon
WRECK IT RALPH 2 Zootopia Easter Egg Scene Trailer NEW (2018) Ralph Breaks The Internet Movie HD
Ralph Breaks the Internet 2018 - Wreck It Ralph 2: All New Clips + Trailers - MasDivertidoTV
3 NEW Wreck-It Ralph 2 CLIPS - Ralph Breaks The Internet
There's A Big Marvel Cameo In Ralph Breaks The Internet
Disney Princess Dolls from Ralph 2 Breaks the Internet Toys
2018 Ralph Breaks the Internet Movie McDonald's Happy Meal Toys Full Set
Ralph Breaks the Internet | 'Zero' Special Look
2 NEW Wreck-It Ralph 2 CLIPS - Ralph Breaks The Internet
WRECK IT RALPH VS MINECRAFT CHALLENGE! Ft. Sonic (Official) Ralph Breaks The Internet Animation
Ralph Breaks the Internet | 'Hearts' Clip
RALPH BREAKS THE INTERNET LOL Surprise Customs Help Rescue Vanellope \u0026 Taffyta
Ralph Breaks the Internet | 'We Are In The Internet' Clip
RALPH BREAKS THE INTERNET MOD (GTA 5 PC Mods Gameplay)
Ralph Breaks the Internet 2018 - Wreck It Ralph 2: All New Clips + Trailers - MasDivertidoTV
Ralph Breaks The Internet Full Short Movie : Disney 's Princess VS Vanellope - Ending Scene
Top 10 Video Game Characters Who Should Cameo in Ralph Breaks the Internet
The Cast Of 'Ralph Breaks The Internet' Find Out Which Disney Princesses They Are
RALPH BREAKS THE INTERNET BROKE ME! Wreck-It Ralph 2 Movie Review
RALPH BREAKS THE INTERNET | She is a Princess Clip | Official Disney UK
Ralph Breaks the Internet Toys + Vanellope IRL! GIANT Happy Meal at Pretend Play Drive Thru!
Sarah Silverman On 'Ralph Breaks The Internet' \u0026 'I Love You, America'
Ralph Breaks the Internet | 'There Is No Track' Clip
Sarah Silverman on 'Ralph Breaks the Internet'
Wreck-It Ralph 2 EXTENDED DISNEY PRINCESS Clip - Ralph Breaks The Internet
Ralph breaks the Internet All Clips \u0026 Trailer (2018) Wreck It Ralph 2