Onyx - Kings of the Grail Posters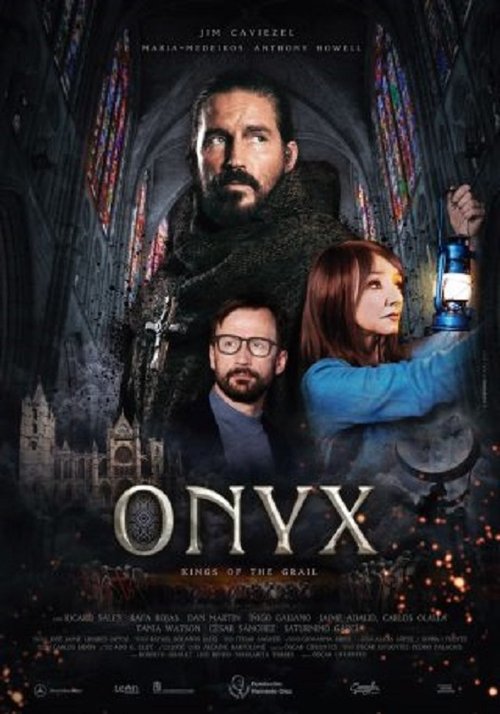 Onyx, Los Reyes del Grial Photo Gallery
Starting the third week of shooting in the capital of #Leon, we hit the equator and the feeling on set couldn't be better. One more week in Leon and then we are off to #Ponferrada, where this afternoon starts the #casting of extras for the #shooting that will take place from May 29th to June 6th in El Bierzo. Those interested can come today from 17.30 to 20 hours to the hotel CELUISMA, (in the Ronda Norte 5 avenue, Ponferrada). Or tomorrow from 10:00 a.m. to 2:30 p.m. or from 4:30 p.m. to 7:00 p.m to #audition #ONYXKINGSOFGRAIL ----------------------------------------------------------------- Comenzamos la tercera semana de rodaje en la capital leonesa, rozamos el ecuador y las sensaciones no pueden ser mejores. Una semana más en León y nos vamos a Ponferrada, donde esta tarde arranca el casting de figurantes para el rodaje que tendrá lugar del 29 de mayo al 6 de junio en #ElBierzo. Los interesados pueden acudir hoy de 17.30 a 20 horas al #hotelCELUISMA, (en la avenida Ronda Norte 5, de Ponferrada). O mañana de 10:00 a 14:30 horas o de 16:30 a 19:00 horas. #ONYXLOSREYESDELGRIAL #JimCaviezel #MariaDeMedeiros #AnthonyHowell #Onyxkingsofthegrail
#JaimeAdalid was born in #Bilbao. In his childhood, he moved to #Madrid where he began to have contact with the theater. He began his artistic career in the theater studio of Ángel Gutiérrez and, after two years there, he moved to #London where he began as an usher. In 2009 he entered the #LondonSchoolofDramatic in which he participated in several versions with authors like #TenneseeWilliams, #AntonChéjov or #WilliamShakespeare and represented, among others, "Malvolio" in Night of Kings, in the Soho Theater of London. In 2011 he returned to Madrid where he continued his training in theater, as well as studying musical voice, dance and body movement. In 2012 begins his participation in feature films, short films and television. His first starring role in cinema will be in the independent film "La Pájara" by Jimina Sabadú. In March of 2014 is chosen for a secondary role on the film "Fire" of Luis Marías. Recently, he combines his work in cinema with theater. ------------------------------------------------ @adalid.jaime nace en Bilbao. En su infancia se muda a Madrid donde empieza a tener contacto con el teatro. Comienza su carrera artística en el estudio de teatro de Ángel Gutiérrez y, tras dos años allí, se traslada a Londres donde empezará como acomodador. En el año 2009 ingresa en la London School of Dramatic en la que participa en varios montajes con autores como Tennesee Williams, Anton Chéjov o William Shakespeare y representa, entre otros, a "Malvolio" en Noche de Reyes, en el Soho Theatre de Londres. En el año 2011 regresa a Madrid donde continúa su formación en teatro, además de estudiar voz musical, baile y movimiento corporal. En el año 2012 comienza su participación en largometrajes, cortos y televisión. Su primer papel protagonista en cine será en la película independiente "#LaPájara" de #JiminaSabadú. En marzo de 2014 es elegido como secundario de la película "Fuego" de Luis Marías. Durante este tiempo compagina su trabajo en el cine con el teatro. #Onyxkingsofthegrail #OnyxLosReyesDelGrial
¡Desde Onyx, los Reyes del Grial os deseamos un feliz año nuevo 2019! We wish you a happy new year 2019! #onyxlosreyesdelgrial #cine #Documental #Historia #jimcaviezel #mariademedeiros #anthonyhowell
Ayer en León, en el Pre-estreno de la película Onyx, Kings of the Grail, en la que trabajé como Director de la 2nda unidad. Yesterday In Leon, at the Premiere of Onyx Kings of the Grail, where I worked as Second Unit Director. #leon #onyx #onyxkingsofgrail #grail #grial #secondunitdirector #director #directorslife
A new day of shooting #Onyxkingsofthegrail was hosted yesterday at the cloister of the Diocesan Cathedral Museum of #León. #JimCaviezel starred in the morning shooting, while #MariadeMedeiros and #AnthonyHowell filmed during the afternoon, where they later posed for the press with the director, #RobertoGirault. ----------------------------------------- El claustro del Museo Catedralicio Diocesano de León acogió ayer una nueva jornada de rodaje de #ONYXLOSREYESDELGRIAL. Jim Caviezel protagonizó la grabación de la mañana mientras que Maria de Medeiros y Anthony Howell rodaron durante la tarde, donde después posaron junto al director, Roberto Girault, ante los medios gráficos.
Tonight is the premiere of our film @onyxkingsofthegrail at @seminci_oficial Here with my favourite premiere-gang living it up at the film's first screening in Leon. And a couple of disturbing stills from my character in the film. Can you guess who I played?! @inigogaliano you better represent us well tonight! . . . #onyx #premiere #valladolid #seminci #actorslife #lovelybunch #squadgoals #youcantshimmywithus #somuchtalentinonepicture #love #mariademedeiros #jimcaviezel #anthonyhowell #taniawatson #iñigogaliano #maartendannenberg
Third day of shooting for #JimCaviezel as the protagonist of #Onyxkingsofthegrail . The American actor has returned to film in the Plaza San Marcelo de León, where the shooting took place inside the Botines House and in the Palace of the Guzmanes. The crew also received actors #JaimeAdalid from Madrid and #MaartenDannenberg from the Netherlands, who joined the shooting yesterday! ------------------------------------- Tercer día de rodaje para Jim Caviezel como protagonista de #ONYXLOSREYESDELGRIAL . El actor estadounidense ha devuelto el rodaje a la Plaza San Marcelo de León donde se ha grabado en el interior de la Casa Botines y en el Palacio de los Guzmanes. También se han incorporado al rodaje el actor madrileño Jaime Adalid, Actor y el holandés @MaartenDannenberg. #Leon #Spain #CastillayLeon
I have no words to describe the experience of working with such incredible actors #JimCaviezel #film #actorslife #leon #catedralleon
Onyx - Kings of the Grail: Trailers and Videos
ADAM S3V, SME 15, Koetsu Onyx, Blues Music
When The Game Stands Tall Official Trailer 1 (2014) - Jim Caviezel, Football Movie HD
Lotus Shikhar Ebonite Fountain Pen Review
The Bike Hub x Deity Components - Cockpit Giveaway!
Pole Assassin Live in Nashville, TN
ONYX - English Trailer
Kimnara - Cortex Ft Demigodz
Do We Finally Know How the Holy Grail Disappeared?
Holy Grail Artifact
RUNNING FOR GRACE Official Trailer (2018) Matt Dillon, Jim Caviezel Movie HD
Flying High and Tap Dancing Phil X PRS Private Stock
Chris Maas Feature Artist at Rusty Drums
The Death of Earn Success
ANASTASIA BEVERLY HILLS GLOW KITS VS JEFFREE STAR KING TUT REVIEW 2016